About New Orleans East Hospital
Proud to be New Orleans' hospital
New Orleans East Hospital (NOEH) opened in the summer of 2014, bringing a full-service hospital to New Orleans East for the first time since Hurricane Katrina. Managed by LCMC Health in partnership with the City of New Orleans and Orleans Parish Hospital Service District A, NOEH is committed to providing superior, quality healthcare and educational empowerment to the community, and serves as a community and economic anchor as Eastern New Orleans is revitalized.

Over 120 physicians are on staff at New Orleans East Hospital, all of whom are dedicated to improving the health of patients in New Orleans East, Gentilly, St. Bernard and the Lower Ninth Ward.

To review our medical staff and to learn more about how you can access our services please visit our physician directory or services tab or click here for our fact sheet.

Our Mission
The Mission of the Orleans Parish Hospital Service District A is to provide superior quality health care and educational empowerment to the community with courtesy, concern, kindness and compassion.
Our Vision
The Vision of the New Orleans East Hospital is to be the trusted leader in providing health care services to its community.
Our Values
Welcoming Spirit
As New Orleans East employees, we strive to provide a healing environment to patients, visitors and other members of the staff that is safe, caring and inviting.
Respect
We treat everyone with courtesy and are sensitive to the cultural differences and diversity of the communities we serve.
Integrity
We serve our patients and each other in accordance with the highest ethical standards and in a reliable, accountable and transparent manner.
Professionalism
We pursue excellence in everything we do and project and maintain an appropriate image and demeanor at all times.
Teamwork
We effectively communicate and collaborate for the good of our patients.
Stewardship
We make wise use of resources to establish a tradition of community service.
Joint Commission Gold Seal of Approval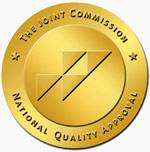 New Orleans East Hospital (NOEH) has earned The Joint Commission's Gold Seal of Approval® for Hospital Accreditation by demonstrating continuous compliance with its performance standards. The Gold Seal of Approval® is a symbol of quality that reflects an organization's commitment to providing safe and effective patient care.





Beginning September 1, 2018, those who call OQPS's 800-994-6610 telephone line will receive an automated message providing instructions on how to file a written patient safety report or concern.

Patient safety concerns can be reported to The Joint Commission:
At www.jointcommission.org, using the "Report a Patient Safety Event" link in the "Action Center" on the home page of the website
By fax to 630-792-5636
By mail to Office of Quality and Patient Safety, The Joint Commission, One Renaissance Boulevard, Oakbrook Terrace, IL 60181"